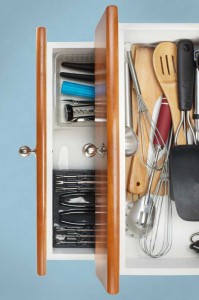 Are you the right organizer for me?
There's only one way to find out: Let's talk. Before we meet, we'll speak for about 30 minutes so I can assess your needs and address your concerns. We'll talk about your goals and your vision, and I'll answer your questions.
---
What happens during an organizing session?
We'll work together as a hands-on team in three-hour sessions, tackling the areas we discussed in our get-acquainted call. You'll begin to see changes as we purge things you no longer want or need, make room for what you use and love, and refine a system created to meet your specific needs.
---
How long will it take for me to get organized?
That's hard to say. Many variables can affect progress, including how much stuff you have, how quickly you make decisions, whether you have to consult with someone else before letting go of unwanted items, your energy level and patience, and your timetable for completing the task.
---
My space is a mess. I plan to straighten up before you arrive, OK?
It's tempting, I know, but please don't. I need to see what's not working for you so I can suggest a personalized strategy to remedy the problem. You'll get the best results if I can see your space in its natural state. (And don't worry, I've seen a lot of spaces.)
---
Will you make me throw stuff away?
Absolutely not. But if you're open to letting go of items you no longer want, need, love or even like, you'll have a more productive experience. And you'll be more likely to achieve the goals you envisioned when you first called me.
---
What happens to the things I no longer want?
I believe in recycling, reusing and repurposing wherever possible. I have many resources to find good "homes" for the items you won't be keeping. Adding to our landfills is always my last resort.
---
What about confidentiality?
As a member of the National Association of Productivity & Organizing Professionals, I adhere to its code of ethics. I never discuss or share information about you, your home or our relationship with anyone other than you unless you give me permission to do so.
---
I'm eager to get organized, but my spouse/partner/child isn't. Will this work?
Any goal is easier to achieve when the whole team is on board. Sometimes it just takes a little time for them to come around. Once your significant others see how much more functional their shared space is and how much happier you are, don't be surprised if they become organizing fans too.
---
What supplies do I need to buy?
Nothing. At least not yet. I always try to repurpose materials you already have on hand, including storage containers, shelving and furniture. Then, if you need additional items, I'll recommend sources for your needs and your budget.